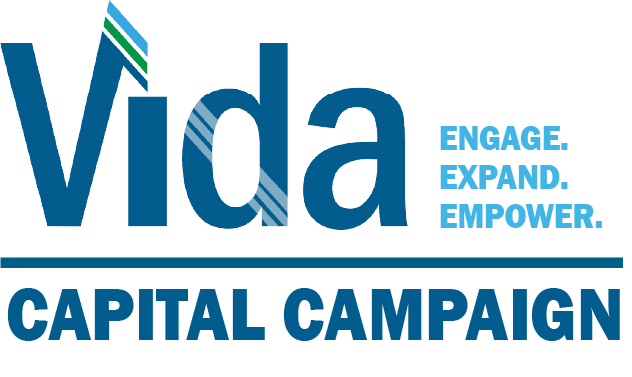 The Campaign
In spring 2021, Vida moved to a new expanded campus to better serve individuals and families in the greater Fox Valley and beyond. For 37 years, Vida has lifted up men and women facing an unplanned pregnancy or parenting infants and young children under difficult or challenging circumstances. Over the years, we continued to expand our programs to the point that our previous leased space was no longer adequate. 
The new Vida campus allows us to have an even greater impact on the lives of the people we serve. While the new building and campus offers easy access, a visible location, ample parking, privacy, greenspace, and room to expand and grow, it did require renovations to transform it from a university into a medical clinic and support service center. We began welcoming patients and clients onto our new campus and hosted our official open house on May 20. 
The Campaign Matching Challenge
Vida met our initial $25,000 Capital Campaign goal in spring 2021! In response to your generosity, the same anonymous donor offered another $25,000 Capital Campaign match gift for donations through July 20.
If successful, the second match campaign would get us within $50,000 of reaching our Capital Campaign goal, which would cover our renovation budget entirely and allow us to continue to move forward debt free!
Get Involved 
Join us as a friend of Vida with an impactful, life-giving donation to the Vida Capital Campaign.
Vida Capital Campaign Goal
Project Scope and Details
720 Association Drive, Appleton  (former Marian University – Fox Valley campus building)
Expanded lab space to accommodate comprehensive STD testing

2 ultrasound procedure rooms (increased from 1)

7 exams rooms (increased from 4)

6 mentoring rooms (increased from 3)

Designated childcare area

Spanish instruction classroom

Expanded store (50%+ increase in size)

Expanded space for storage of material support products 

 (50%+ increase in storage capacity) 
Easy, direct building access for donation drop off
Expansive greenspace and campus
Easy access to Interstate 41
Visibility from Interstate 41
Ample parking
Room to expand services and grow in the future
Your support helps us transform this building  (photos below) from a former educational services building to a state-of-the-art medical clinic and support services center that reflects the high-quality, welcoming, dignified, and excellent care we provide. 
Before (Pre-Renovation) Photos
Congratulations on your new location! What an exciting time for Vida! Vida plays a vital role in our community and so happy to hear more families will benefit from your great services.
Rejoicing with you from the Upper Peninsula as you expand to meet the needs of more clients, and we're grateful for your willingness to teach and provide resources to other pregnancy resource clinics!
Biking for Babies has been blessed to partner with Vida Medical Clinic since 2014. We have been continually impressed by the staff and volunteers who approach each client in a loving manner, meeting them in their time of great need. Vida fulfills a vital, life-saving role in the Fox Valley and beyond, serving women as far as Madison and Michigan!
Congratulations on your upcoming move and the expansion of services. Vida's work is inspiring, and your impact to our community is profound.
Congratulations on the new building! Thank you for the loving ways in which you serve the community.